innovation and R&D
Our DNA
Research & Development and Innovation has been one of the keys to ISQ's track record throughout nearly 50 years of its existence.
This characteristic is based on continuously anticipating the needs of the business environment and on the development of adequate response capabilities, based around 3 fundamental aspects:
Adequate facilities
Technologically advanced equipment
High-level human resources
In partnership with over 1200 industrial and academic partners, both in Portugal and around the world, ISQ promotes the transfer of technology to industry, contributing to greater sustainability and development of the business fabric.
As a result of the R&D activities, emphasis should be placed on the recent applications of automated Phased Array and Guided Wave technology in oil industry facilities in Portugal and internationally, the application of life cycle assessment and Eco-Design in the development of new sustainable products, the smart monitoring of cathodic protection systems and the characterisation and control of coatings, and the use of automated Phased Array technology in Liquefied Natural Gas (LNG) tanks.

Centres for Research and Development + Innovation
ISQ's R&D+i activity is coordinated around four centres, which address the priority areas.
ISQ has been a partner or coordinator in more than 500 R&D projects (since the 1980s) and participates in the IXV programmes (European Space Agency re-entry vehicle), ITER (International Thermonuclear Experimental Reactor), CERN (Large Hadron Collider), projects ALMA and E-ELT (European Extremely Large Telescope) of ESO (European Southern Observatory).
In the annual ranking of the 100 companies that spend the most on R&D activities in Portugal, published by GPEARI (Planning, Strategy, Assessment and International Relations Office) based on the Survey of National Scientific and Technological Potential, ISQ has continuously been among the top 50 in the period between 2007 and 2009.

Over this period its average investment was close to 5 million euros, and in 2009 it ranked 6th in terms of the number of PhD holders assigned to R&D activities, measured in Full Time Equivalents (FTE).
ITER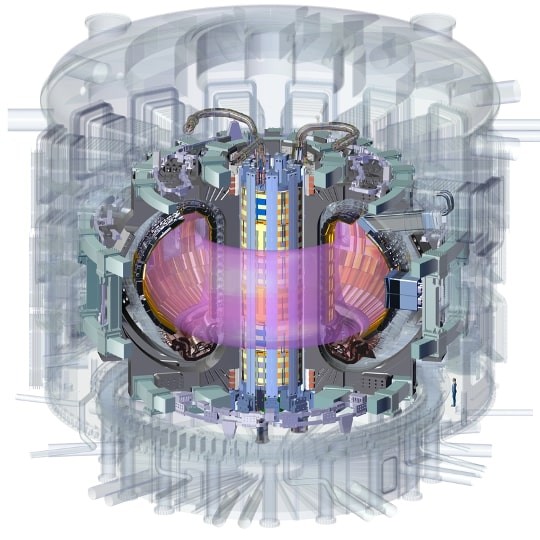 ITER is under construction in Saint-Paul-lez-Durance (Cadarache), southern France. The buildings and infrastructure required for "First Plasma" are 75% complete and the assembly of the equipment is underway. The first phase is expected to be completed by the end of 2025 with "First Plasma".

From 2025 onwards, experiments will be conducted with gradual power increases, interspersed with process development periods. Start-up at full power is planned for 2035.
Assigned Teams
---
PORTUGAL · Oeiras
1st SEVERAL INSPECTORS CARRY OUT SPOT INSPECTIONS OF THE DIFFERENT F4E SUPPLIERS
SPAIN · F4E (Barcelona)
2nd MAGNETS, IN VESSEL, QUALITY TEAM
FRANCE · ITER Site (Cadarache)
3rd MAGNETS, QUALITY TEAM, PF COILS
4th CNIM (LA SEYNE SUR MER) – TF COIL
5th ATMOSTAT (PARIS) – IN VESSEL
ITALY · Walter Tosto
6th VACCUM VASSEL, BODY CASSETTE
7th MAGGIAROTTI (MONFALCONI) – VESSEL VACCUM
8th SIMIC (PORTO MARGHERA) — MAGNETS
CERN
For several years an ISQ team monitored the manufacturing and installation of different components, accessories and structures for what is considered one of the largest research projects of our time. Here, it all starts with a "simple" canister of hydrogen — "The Bottle to Bang".
ESA
Over the last few years, ISQ and ESA have been partners in several projects, in particular the recent assessment of the availability and suitability of surface treatments as an alternative to those containing hexavalent chromium
CNES / ARIANESPACE – KOUROU
A team has been part of the quality assurance service since 2003, working in the areas of Soil Quality, Fluids and Mechanics, Safety, Onboard Quality and Satellites. Yet again, hydrogen functions here as the fuel for the main stage of Ariane 5.
ESO
ISQ's current participation in the ELT (Extremely Large Telescope) project consists of maintaining a team at Quality Assurance in Garching (Munich), the ESO's headquarters. The main mirror of the ELT will have a diameter of 39 metres, made up of 798 segments. The telescope will be the largest ever built and will be installed at Cerro Armazones, near Paranal, Chile.
---