ISQ Innovation Projects
---
Hannover Messe 2022
Portugal is this year's partner country at Hannover Messe, the world's most important industry and technology fair. Under the Industrial transformation theme, ISQ will be present, among the 110 Portuguese companies, with innovative solutions for the Hydrogen and Space sector, and participate in forums and round tables.
ISQ started its activity in the hydrogen area in 2004, through its participation in the pioneer European project Naturalhy, which investigated the effects of the introduction of mixtures of hydrogen with natural gas in the European natural gas network. ISQ's multidisciplinary teams have high competence and experience, being able to perform the necessary assessments for the conversion of processes/equipment to use hydrogen, from the production phase, to transportation and distribution.
EVALUATION OF THE MIXTURE OF HYDROGEN AND NATURAL GAS IN THE EUROPEAN NETWORK
The possibility of transporting a mixture of hydrogen with natural gas through the natural gas network itself was put into practice, immediately assuming itself as a pioneering project in Portugal and Europe. This is a way of providing European consumers with a competitive fuel that, in the long term, will ensure that European countries are less dependent on oil and natural gas.
ISQ participated in the NaturalHY project , which investigated the effects of introducing mixtures of hydrogen with natural gas for transport in the European natural gas network. This program had a special focus on materials evaluation components, inspection methodologies, risk analysis in their use, life cycle assessment and the adequacy of existing installations to the introduction of mixtures of natural gas with hydrogen. Between 2004 and 2009, it had 39 entities, important energy operators (Gasunie, Gaz de France, Total) and several European technological partners.
We present in Hannover our inspection services using drones for confined spaces and photovoltaic panels, showing the algorithm we developed to identify and characterize the anomalies in photovoltaic panels. Basically, added value services performed by UAV's (Unmanned Aerial Vehicle) for use in both large structures and confined spaces. A service that can be used to perform aerial thermographic inspection in photovoltaic parks, in compliance with the IEC TS 62446-3_2017 standard, ensuring 100% inspection of photovoltaic modules.
The HTHA Solution – High Temperature Hydrogen Attack – was also a new feature. It aims to respond to hydrogen myocroattacks/microfisses in equipment operating at temperatures above 250ºC.
The attraction at the national pavilion (AICEP) is the Mars probe, an engineering solution that brings together Portuguese technology, innovation and cork, a project developed for the ESA for the Mars exploration program. It will be the first time in history that a probe will bring something from Mars and land on Earth.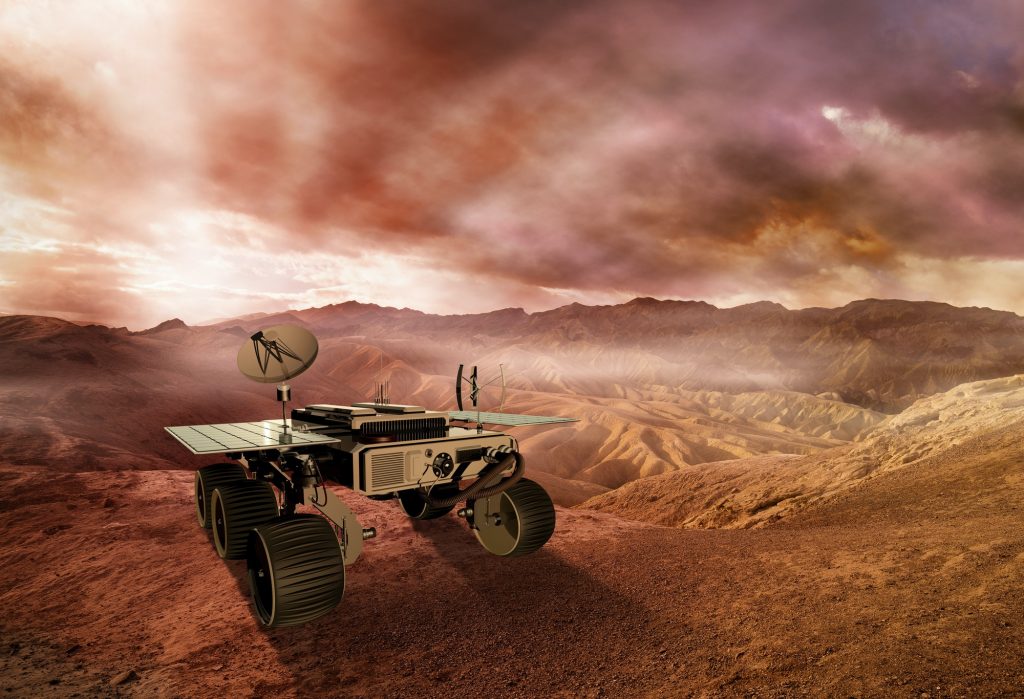 MARS PROBE
Atmospheric re-entry capsule for Mars exploration
ISQ has completed a project for the exploration of Mars. Codenamed cTPS, the result has already been validated by the ESA and aimed to develop a thermal protection system for a capsule that will bring regolith samples (pebbles) from Mars to be analyzed on Earth. A Portuguese engineering solution that takes cork, adds engineering and innovation to it and creates an innovative atmospheric re-entry capsule that promises to be a reference in new developments for space missions. We offer ESA a simpler, lighter solution, 25% below the maximum weight required, and with reduced production costs. The probe will launch after 2020.
Portugal is at the Hannover Messe 2022 with a strong exhibition presence in four pavilions. A Central Pavilion (national) with 1.300 m2 and three Thematic Pavilions with 200 m2 each. The Portuguese presence will be focused on the areas Engineered Parts & Solutions, Energy Solutions and Digital Ecosystems, representative of the national offer of excellence clusters, namely in the sectors of equipment and metalworking, mobility, automotive and aeronautic sectors, textiles and technical plastics, molds, production technologies and renewable energies, areas where Portugal and Germany have shown great affinity and a promising path to follow with an increasing number of projects in partnership aiming the launch of new products.
MAISTEC: E-BRICK
Cigarette butts in the composition of traditional bricks
E-Brick incorporates cigarette butts into building elements, namely bricks. Advantages: a lighter product with better insulation properties and reduces by 60% the energy consumption required for its production.
This innovative project aims to integrate cigarette beatas in the composition of traditional bricks – coming from the EcoPontas of the Chamber of Guimarães – through manufacturing processes executed in the Waste Recovery Center. In essence, we are talking about reuse and recycling of municipal waste, leveraging related activities that, through research and development, can give rise to new products.
It has already been proven, in several international scientific studies, that the composition of cigarette butts has advantages in the incorporation of bricks, particularly contributing to the reduction of the clay needed for the manufacture of bricks, and the reuse of cigarette butts as waste. In addition, the beatas reduce the energy resources in the production of bricks, which improves the energy efficiency of the processes. In a way, they can reduce almost 60% the energy consumption required for brick production, making the final product lighter and with better insulation properties, that is, reduces future costs with heating and cooling of built environments.
PROBE TO MARS
Atmospheric re-entry capsule for Mars exploration
THE ISQ has completed a project for the exploration of Mars. With the code name cTPS the result has already been validated by ESA and aimed at developing the thermal protection system of a capsule that will bring samples of reregolith (pebbles) from Mars to be analyzed on Earth. A Portuguese engineering solution that takes cork, brings engineering and innovation together and creates an innovative atmospheric re-entry capsule that promises to be a reference in new developments for space missions. We offer ESA a simpler, lighter solution, 25% below the maximum weight required, and with reduced production costs. The probe will be launched after 2020.
INFANTE
First Portuguese microsatellite | Maritime applications and communications from constellations
The Infante project aims to demonstrate the national ability to design, build, integrate, test and operate a demonstrator of a microsatellite in low orbit (500 km of altitude). It is an R&D project for the development and demonstration in orbit of technology for a small satellite, precursor of the observation of constellations seen from Earth.
ISQ is the partner responsible for quality assurance, safety, development of a specific assembly, integration and testing process, and system and subsystem-level testing activities.
SMARTGREENHOUSE
Digital platform that monitors greenhouses
Under the MaisTec project, an IoT device was developed, a digital platform for monitoring greenhouses, SmartGreenHouse. The objective focuses on the contribution of sustainable agriculture by increasing knowledge of culture media and intervening variables.
The IoT device allows you to measure in real time several indicators, e.g. temperature, air humidity, luminosity, soil moisture (substrate crop), electroconductivity of irrigation solution (hydroponics crop), pH of irrigation solution (hydroponics crop), CO2, O2, air quality.
The measured data is sent wirelessly to a database integrated into the digital platform. The developed platform allows you to visualize data history, monitor in real time the measured variables, or implement advanced models for data processing and analysis. Thus, the results are made available in a web interface, with the possibility of also being presented in an android application.
AIRMES
Digital platform with tools that support aeronautical maintenance operations
ISQ has developed an innovative prototype for a Virtual Reality mobile device that aims to support aeronautical maintenance. This prototype was developed under the International Airmes Project – Airline Maintenance Operations implementation, which brings together several partners and aims to optimize end-to-end maintenance activities within the aircraft maintenance operator, so that there are no operational interruptions of technical origin.
In order to achieve the goal of optimizing maintenance operations, the prototype can reduce the time of the search for documentation and therefore decrease the probability of human failure, since it is focused on the maintenance of parts and work areas that are difficult to access and low visibility. The operational technician is also provided with maintenance instructions and an interactive 3D representation of the work area and components to be intervened, thus enhancing greater proefficiency of operations and lower activity costs.
This virtual reality system also has a high capacity to adapt and apply to other maintenance activities of various sectors and enhances a high level human training, with reliable information to technicians in operations, by facilitating the identification and execution of procedures to be applied, improving the technical performance time.
PASSARO
Innovation Capabilities of functional and structural tests of air structures
The PASSARO project aims to work in several areas related to functional and structural tests, as well as with advanced structures.
PASSARO will contribute to the development of intelligent and multifunctional structures, to the automation of processes and production technologies associated with maintenance in the Industry 4.0 approach, applied to two demonstrators in real-scale (two cockpits and specific wings demonstrators for regional aircraft's innovative aircraft development platform (IADP).
WELDING SIMULATOR
Virtual reality learning tool
The ISQ Group develops digital skills applicable to welding training with the immediate advantage of improving the efficiency of the training process by reducing waste with high cost materials and consumables, reducing risks. It allows technology to make a permanent evaluation of the performance of each trainee. The playful aspect of this simulator makes welding training more attractive, offering gamming with augmented reality.
ISQ also has a training, research and development laboratory – Ecotermolab – with almost 2,000 meters of area. It is certified in accordance with building energy certification and indoor air quality regulations and equipped with innovative air conditioning, renewable energy and energy efficiency technology and solutions. It is specially designed for training in the areas of solar thermal, photovoltaic, telecommunications installations in buildings (ITED) and air conditioning, heating and ventilation (HVAC).
Under POISE – Operational Program for Social Inclusion and Employment – ISQ ACADEMY certifies the human resources of Portuguese companies in the most diverse technological areas
In a statement, it provides tailor-made consulting solutions in human capital management, including 4.0 training. which allows greater efficiency in processes and innovation in products, creation of added value in the value chain and support in digital technology and automation.
SAGRES SMART
Intelligent support for geological exploration on the seabed based on space resources
ISQ is developing the SAGRES project, based on remote detection services and big data analytics, which collects information from Earth Observation Satellites from the European Space Agency (ESA).
The goal is to develop and implement a web consulting service, based on a decision support platform (PSD) that combines Earth observation data from various sources (OE) with artificial intelligence / Machine Learning (AI / ML) to improve exploration and exploration with advantages for the deep sea mining industry (DSM).
This project includes new areas of competence for ISQ, ranging from knowledge of satellite embedded instrumentation, geographic information systems and big data analytics, as well as geology and oceanography-based skills.
The ISQ in this project has the support of the Faculty of Sciences of the University of Lisbon and the Mission Structure for the Extension of the Continental Shelf (EMEPC).
ITER
Clean and inexhaustible energy | Today's largest scientific project
ISQ is present in the area of nuclear energy through participation in international projects. One of them is the ITER – International Thermonuclear Experimental Reactor, for which ISQ develops Non-Destructive Testing (END) procedures and tailor-made solutions for qualification of jacketing suppliers in superconductors.
ITER will produce energy for scientific purposes and consists of a clean energy source, which produces virtually no waste.
SIM 4.0
Intelligent Monitoring Systems
The SIM 4.0 project, presented and financed under the Collective Action Support System – SIAC, has as main objective to transfer scientific and technological knowledge to the industrial fabric, thus contributing to overcome some information and knowledge failures on advanced technologies and their application in industrial systems.
Intelicrop
Sustainable agriculture through Satellite Earth Observation and Data Science
The agricultural sector faces several challenges related to the increasing variability of climatic conditions, directly associated with crop growth dynamics, plant health, diseases and pest inflows
The InteliCROP (ESA SAMLL ARTES project) aims to provide resources and technological services to support the decision for sustainable agriculture, helping to develop preventive actions against plant health problems or to improve crop management.
InteliCROP's developed solution aims to improve the monitoring of agricultural variables by providing reliable information and forecasts on production, agricultural indicators, vegetation indices, or plant health risks, in advance to facilitate responses and contingency planning to better protect crops.
The integrated InteliCROP platform developed enhances the capabilities of Earth observation methods and artificial intelligence methods, to identify patterns and correlations in specific agro-climatic data for mapping occurrences in agriculture and promoting optimized decision making.
ACOUSTIC ANTENNA
Noise and environmental vibration monitoring
Noise is one of the most important environmental health risks. In fact, exposure to environmental noise can cause stress, sleep disorders, effects on mental health and well-being, cognitive impairment in children, as well as negative effects on the cardiovascular and metabolic systems.
Integrated in the ISQ group, dBwave.i is a leading Portuguese company in the supply of acoustic engineering services and noise management solutions, with extensive experience in areas such as: City Noise Planning and Mapping, Noise Maps and Action Plans for Transport Infrastructures, Power Plants, Industries and Utilities, services and accredited solutions for noise and vibration monitoring, improve sustainability and reduce environmental risks to the health and well-being of the human population.
ISQ IN ENERGY
PHASEWIND
"Blue investment" to boost sustainable technologies
ISQ has developed an integrated system for inspection and non-destructive control of wind tower welding during manufacture – Phasewind.
This development of ISQ, in addition to increasing productivity in the inspection of wind turbine towers during manufacturing, ensures a higher quality of inspection, by helping to eliminate human error during the decision of inspection and defect site.
An innovative inspection and monitoring solution that combines different non-destructive and visual testing techniques to perform high-speed and automatic inspections of wind turbine tower welding. This fully automatic inspection system does not require human intervention during its operation because it can scan and analyze the weld bead through a high-resolution camera and advanced ultrasonic techniques that analyze 100% of the volume of welds automatically, thus detecting defects, without the presence of operators.
At stake is entrepreneurship, research, innovation and "blue investment" to drive sustainable technologies and emerging value chains across the sea economy.
WINDFLOAT
Wind power | The first offshore floating wind farm in Portugal
ISQ participates in the Windfloat project, the first offshore floating wind farm in Portugal, installed in Viana do Castelo. The services provided by ISQ consist of non-destructive testing, dimensional control, tightness and equipment testing. Based on this new technology, which allows wind exploration in the marine environment to great depths, replacing the traditional fixed tower on the seabed, clean energy is obtained.
The project is part of the Industrial Strategy for Ocean Renewable Energies, whose main objective is the creation of an industrial cluster exporting these clean energy technologies with the potential to generate 254 million euros in investment, 280 million euros in gross added value, 119 million euros in the trade balance and 1,500 new jobs.
Windfloat Atlantic, using wind energy, is coordinated by EDP through EDP Renováveis and integrates the technological partner Principle Power, Repsol, venture capital Portugal Ventures and metallurgical A. Silva Matos.
ISQ IN DEFENSE
GAMMA EX PROJECT
Remotely Piloted Aircraft System
It is intended to develop under this project an air system with remote operation (RPAS – Remotely Piloted Aircraft System) prepared for monitoring and chemical and radiological monitoring actions.
The GAMMAex project also intends to extend the use of RPAS, to scenarios where there is a danger of explosive atmospheres.
MOSHO
Advanced solutions for impact materials, repair and monitoring of composite structures
The MOSHO project aims to develop new material solutions, particularly impact resistant and with regeneration capacity, composite structure repair techniques, inspection by EDT techniques and their qualification, as well as monitoring the structural integrity of repairs through an autonomous and integrated Structural Integrity Monitoring system.
LIGHT ME
Open innovation ecosystem for production of low-weight composite metal alloy processes
The European LightMe project aims to create and operationalize an Open Innovation Test Bed for the scale of manufacturing processes of metal matrix composites and lightweight metal alloys based on magnesium and titanium aluminum, reinforced with nanomaterials, intended for the automotive, aeronautics, aerospace and consumer products (light metal objects) sectors.
This innovation ecosystem will allow open access to SMEs and Industries, through a single entry point, functioning as a "One-Stop-Shop" where future customers will be able to find the necessary support to address the different aspects that may arise during the different stages of maturity of their products development, especially between TRL 4 and TRL 7. To this end, it will make available, through the Core partners of the project, a European structure consisting of different infrastructures and capacities.
LightMe will consist of 6 pilot lines: 3 foundry lines, 2 additive manufacturing lines and a Plasma Sintering line to support innovators in optimizing their materials and processes. In addition, it will provide its future customers with a set of services that include the characterization of materials and components; consulting services that include activities related to verification of compliance with legal requirements applicable to different materials and scopes and activities related to standardisation, environmental and safety assessments (including nanosafety); modulation and optimization of processes and materials, innovation management, among others.
The project consists of a consortium of 25 partners from 15 countries that include the ecosystem partners (Core partners) and end-users (industry) participating in the project, through 8 case studies, to support the validation of the ecosystem to be created.
In this project, ISQ will contribute mainly to the activities of characterization and testing of the materials to be developed and to the evaluation of the safety of the pilot lines. It will also participate in the dissemination and exploration activities of the project.
LUBSYSTECH
Integrated management system for condition analysis of industrial lubrication systems
The LubSysTech project aims to develop an integrated management system for condition analysis of lubrication systems based on the monitoring and evaluation of fluid lubricants, using a lubricant characterization prototype and a digital platform.
The goal is to keep working according to the requirements of the equipment, and replace lubricants only when necessary.
ISQ IN AERONAUTICS AND AEROSPACE
EMBRAER WING
Tests on the demonstrator of the structural part of a wings
ISQ was responsible for designing and executing a set of tests on a demonstrator of the structural part of a wings (semi-asa) consisting mostly of composite material. This semi-aircraft was developed by Embraer and is intended for a new generation of commercial passenger aircraft. Embraer did the ground test of this semi-asa in the ISQ Group laboratory in Castelo Branco. Advanced non-destructive inspection techniques as well as preliminary mechanical and impact test work were used for this purpose.
In this ISQ laboratory, tests have been carried out for international and national customers in the automotive, satellite components, electrical equipment, military equipment and cold production units.
IXV
Experimental atmospheric re-entry vehicle
This reusable and unmanned demonstrator vehicle is a project of the European Space Agency (ESA) and has the ability to make orbital flights and move in a flat flight, between re-entry into the atmosphere and the mooring site. ISQ was very involved in the development of IXV, being the only Portuguese entity that has continuously followed this project since its inception. More recently, the collaboration with ESA took place from the test center that the Group holds in Castelo Branco.
ISQ has been providing services to the aerospace industry for more than 10 years and in addition to participating in technology development projects, it also has a permanent team at the European Space Center, where it participates in the preparation and launch operations of the 3 systems there: Ariane 5, Soyuz and Vega.
The Castelo Branco test center represents an important investment in the area of innovation, and allows studies and tests on various components in composite aircraft materials, such as wings, rudders, cabin components, etc. In this center it is possible to perform all the life cycles of the plane, which can include hundreds of different combinations, such as flight types, wind gusts, storms, soft or sudden landings.
ISQ IN ADDITIVE MANUFACTURING
MULTI-FUN
Multi-functional performance through additive manufacturing
The main objective of the project is to promote a significant gain in performance and efficiency in metal additive manufacturing products through the complete integration of multi-functionalities. In addition, the design will allow the design of various materials in geometrically complex 3D metal parts without size limitation by innovative and economical additive manufacturing technologies.
HIPA2L
High Performance Additive manufacturing of Aluminium alloys
ISQ was invited to join the HiPA2l (High Performance Additive manufacturing of Aluminium alloys) project, which aims to develop new aluminum alloys, intended for additive manufacturing or manufacturing processes, in the form of welding wire, for the construction of components layer by layer.
SAM
Sector Skills Strategy in Additive Manufacturing
The SAM project aims to develop technical skills to qualify young people interested in working in the additive manufacturing sector in Europe. The project aims to define a strategy of qualifications for this sector, including techniques such as 3D printing.
ISQ IN SUSTAINABILITY
Sustainable Development and Indicators for Urban Services and Quality of Life
Specialized service for initial diagnosis and evaluation of city performance
ISQ provides a service for initial diagnosis and evaluation of the city's performance under the NP ISO 37120 Standard – Sustainable Development and Indicators for Urban Services and Quality of Life
Being an integral part of a new series of international standards under development for a holistic and integrated approach to sustainable development and resilience, the NP ISO 37120 set of indicators ( Economy, Education, Energy, Environment, Finance, Fire and Emergency Response, Governance, Health, Recreation, Safety, Housing, Waste, Telecommunications and Innovation, Transport, Urban Planning, Wastewater, Water and Sanitation) provides a uniform approach to what is measured and how this measurement is performed. These indicators are used to monitor and monitor the progress of the city's performance in order to achieve a sustainable development characterized.
The methodology used by ISQ will enable this holistic and integrated approach to sustainable development that includes indicators for urban services and quality of life; indicators for smart cities and indicators for resilient cities
This methodology ensures a continuous analysis of the city's performance, being able to guide its development through the measurement of performance management, which allows for more effective strategic planning and supports decision-making for the development of public policies and prioritisation, with the possibility of sharing the best practices implemented, integrated into a policy of transparency with citizens.
EETUR
Promoting energy efficiency in the Tourism sector in the Algarve region
The Project EETur – Energy Efficiency in Tourism Enterprises of the Algarve Region for greater Competitiveness and Sustainability of the Sector, has as strategic objective to promote the transfer of scientific and technological knowledge in the area of Energy Efficiency (EE) and Renewable Energies (ER) to tourism enterprises, sensitizing the sector to the best methodologies, technologies and existing business models, with a view to promoting greater competitiveness and sustainability of tourism in the Algarve.
These technologies and methodologies are innovative solutions, resulting from previous activities of R&D projects, enabling effective gains in the eco-efficiency of tourism enterprises and consequent reduction of energy costs and carbon footprint.
This initiative is promoted by ISQ – Institute of Welding and Quality with the support of regional partners, AHETA – Association of Hotels and Tourist Resorts of the Algarve, NERA – Business Association of the Algarve Region and ENERCOUTIM – Solar Energy Association of Alcoutim.
Learn more at: https://www.eetur.com/
CORINTHIA HOTEL LISBON
Energy Efficiency – considered the best project in Europe
ISQ, in partnership with Galp Soluções de Energia, implemented the energy efficiency project at Corinthia Hotel Lisbon, which received the title of Western Europe Region – Energy Project of the Year, awarded by the Association of Energy Engineers (AEE). This project was considered the best energy project in Europe, by the use of tailor-made private engineering solutions, designed in conjunction with ISQ (the technical partner), which allowed to obtain in the first half of 2013 a reduction in energy consumption of more than 25%, corresponding to 600,000 kWh and 290 tons of CO2.
This project was the winner of the Western Energy Project of the Year 2013 award, presented at the annual conference of the Association of Energy Engenieers, the world's largest association of energy engineers.
Reuben Mifsud, manager of hotel Corinthia Lisboa, said: "It is an honor for us to be selected by such a distinguished panel of judges to be named Western Europe Region Energy Project of the Year for 2013. This award is the result of a revolutionary energy concept implemented in the Hotel five years ago, in which we have always believed in, and at this point has become a reality. This project combines our commitment to reduce our CO2 footprint with our goal to achieve energy efficiency."
CLIMACT
Low-carono savings in schools, through complementary approaches such as energy efficiency, sustainable transportation, green purchases, resource conservation and behavior changes. The methodologies and tools created by ClimACT are being optimised in 39 schools in Portugal, Spain, France and Gibraltar to be replicated in other European regions.
ISQ IN TECHNOLOGY
HI2TRUST
Platform for inspection of high temperature components
The Hi2TRUST project consists of an advanced system of inspection and monitoring of critical components in service (pipes, boilers), in high temperature operating conditions, up to 550ºC. In the background, it is to do an "ultrasound" to the welding state of the equipment.
The objective of this project is to overcome the physical limitations of EMAT (Electromagnetic Accoustic Transducers) inspection technology.
In this context, advanced ultrasonic inspection techniques are developed by Induced Currents and an automated visual inspection module is developed. This project includes the volumetric inspection strands, using the Phased Array (ultrasonic inspection technique) and the TOFD (Time-Of-Flight Diffraction, surface inspection, using induced currents and remote visual inspection, using advanced high definition cameras and a laser alignment system.
The integration of these techniques is complementary to the others, thus achieving the sensitivity and detection capacity of the system. The end result of the integration of these technologies will be a product that integrates radical aspects of innovation combining various advanced non-destructive control techniques that will allow inspection of all the typical defects of the target components in the said conditions of service at high temperature.
The Hi2TRUST project is a key tool to continue the development cycle already initiated by the promoters and contribute decisively to the competitiveness of the lead promoter in the inspection of components in service and to sustain their internationalization in reference external industrial sectors.
ECOPROSYS
Integrated Eco-efficiency methodology for Production Systems
ISQ has developed software with tools and resources that help companies reduce their environmental burdens.It is an Integrated Ecoefficiency methodology for Production Systems that allows quantifying the efficiency levels of companies, in order to become more sustainable, with eco friendly policies.
This methodology aims to respond and bring solutions to global sustainability. Populations are consuming the planet's natural resources at a resounding rate and it is estimated that about 3/4 of the world's population lives in countries that consume 30% more of the resources annually in addition to those that the Earth has the capacity to replenish. This premise has a great ecological impact, particularly in the processes of deforestation, degraded soils, air and water pollution and extinction of various species of the ecosystem.
This environmental phenomenon has worsened as industrial consumption increases, and technology has not kept pace with the demand for solutions that address the problem of global sustainability.
Studies predict that by 2040, global energy demand is expected to increase by around 37%, which means that if nothing is done, we will need two planets to support the current lifestyle.
For this reason, ISQ has once again teamed up with technology to try to find new ways for companies to continue to produce eco-efficiently without overloading the planet. Through this methodology, ISQ aims to promote more sustainable and competitive industrial products and processes, promoting methodologies such as ecoPROSYS that allow companies to perform better with fewer resources and less energy, complemented by reports on the environmental impact of their products/services, more specialized knowledge and metrics for evaluating results
This methodology integrates one of the pillars of MAESTRI, an R&D project that aims to create an integrated energy and resource management system, with the objective of developing and applying methodologies to promote eco-efficiency in industry.
MAESTRI
European research and development project aimed at creating an integrated energy and resource management system, with the aim of developing and implementing methodologies to promote eco-efficiency in industry: "do more, with fewer resources"
SHIFT
Self-diagnosis tool for the digital maturity of industrial enterprises
The SHIFT to 4.0 project, developed by ISQ, in partnership with IAPMEI, the University of Aveiro and the University of Minho, consists of the application of a self-diagnosis tool for the digital maturity of companies
In practice, the tool allows analyzing the difficulties and state of companies in the face of the challenges of digital transformation promoted by Industry 4.0. The program allows to identify opportunities, teach good practices, introduce tools and implement measures and actions to make companies technologically more advanced, especially SMEs, during their journey in digital transformation and skills strengthening in this area.
The program also provides additional tools to support consulting work, in matters associated with digital transformation processes and 4.0.
The implementation of SHIFT to 4.0 will be divided into three phases. The first aims at the selection of 80 companies, of different dimensions and sectors of the national economy, where the diagnostic methodology and the sample to participate in the exercise will be defined. In the second phase, the defined methodology will be put into practice, accompanied by monitoring on the ground. If necessary, adjustments will be made, defining support tools that are necessary, such as roadmap of interventions, support texts on Industry 4.0, draftinterviews and reports, and other materials.
In the third phase there is the scale up of the project, in which the tool of self-diagnosis of the digital maturity of companies will be available to those who are interested.
The "SHIFT to 4.0" rating is supported by a six-dimensional analysis of industry 4.0, which is the essence of i4.0. From the different themes of each dimension it is possible to position the company in one of the six states of maturity i4.0
Developed by ISQ and promoted by IAPMEI, the design of "SHIFT to 4.0" was based on the survey created by the IW Consult of the Cologne Institute for Economic Research and the FIR of RWTH of the University of Aachen, having been adapted to the Portuguese reality by ISQ in collaboration with Cristina Barros, as Technical Co-Coordinator of AXIS 3 of the INCODE 2030 Program.
By the end of May 2019, the pilot initiative "SHIFT to 4.0", to which several entities of the Scientific and Technological System have been associated, will enable a group of companies to benefit from an i4.0 maturity assessment exercise.
SCALER
Increase the adoption of Industrial Symbiosis (SI) in Europe. Innovation consists in the production of tools and methods directed to various stakeholders in order to facilitate the identification of potential, feasibility analysis and implementation of synergies that allow collective management of resources and waste. One of the objectives is the design of a database of IS-facilitating technologies.
ISQ IN NANOTECHNOLOGY
PURENANO
New methods for in-situ purification and regeneration of coating baths for metals, involving the use of functionalized magnetic nanoparticles (MNPs). This prevents the baths from being discarded and suspended particles are recovered for reuse. ISQ is responsible for identifying and evaluating the environmental and economic benefits and impacts of products and processes in various pilot facilities
PROCETS
Protective Composite Coatings Via Electrodeposition and Thermal Spraying
Coatings are of critical importance to European industry and the challenge is to find less toxic and less aggressive materials. The PROCETS project seeks to respond to this challenge with the help of ISQ.
The main objectives of PROCETS are the production of composite coatings by electrodeposition and thermal projection, with the incorporation of nano-particles for a wide range of applications, namely in the automotive, aerospace, oil and gas and cutting tools, using materials more environmentally friendly.
ISQ's activities in the PROCETS project involve several Areas of R&D, focusing on material testing to validate the performance of the new coatings developed, namely the performance of corrosion tests ("prohesion tests") and accelerated exposure. ISQ also contributes to the assessment of the impact of the implementation of environmentally developed technologies (life cycle assessment), economic (life cycle costs) and safety (Safe-by-Design approach in new products and risk analysis in production and safety processes).
LIGHTCOCE
Building an Ecosystem for the up-scaling of lightweight multi-functional concrete and ceramic materials and structures
LightCoce aims to create an innovation ecosystem (Open Innovation Test Bed) for the development and scale of lighter and multifunctional materials and structures, composed primarily of concrete and ceramics for application in the aerospace, aeronautics and construction sectors.
In this project, ISQ contributes to the assessment of the impact of the implementation of technologies developed, from the environmental point of view (life cycle assessment), economic (life cycle costs), resource efficiency (using ecoPROSYS© software) and security (risk assessment, with a special focus on nanosecurity). It will also contribute to the dissemination and exploitation activities of the project.
The project has the participation of 26 European partners from 9 EU countries, including 5 Large Enterprises, 8 Entities of the scientific and technological system, 12 SMEs and 1 Association, being funded by the H2020 programme.
PEDRO MATIAS
President of ISQ
Married with three children, he holds a degree in Business Management and a master's degree in Economics and Management of Science, Technology and Innovation.
He was president of CEDINTEC, vice-president of IAPMEI and the Technological Pole of Lisbon, president of the Business Modernization Fund, the Business Acquisition Fund and the Real Estate Fund to Support Companies.
He was an administrator of APCER, a member of the board of Startup Lisboa and held several positions at the level of Government Member Offices.
He was also involved in several international structures as an adviser to the European Commissioner for Research within the European Research Advisory Board and the OECD and also held various management positions at INETI.
He is currently president of ISQ.