Sustainability
At least for now and surely for the next 100 years. That is, the planet Earth is the only known for us to live in.
So this phrase – which comes from the famous adaptation of "there is no Plan B" – can indeed become frightening. But more than frightening, it should lead us to seriously reflect on what fate we want for planet Earth.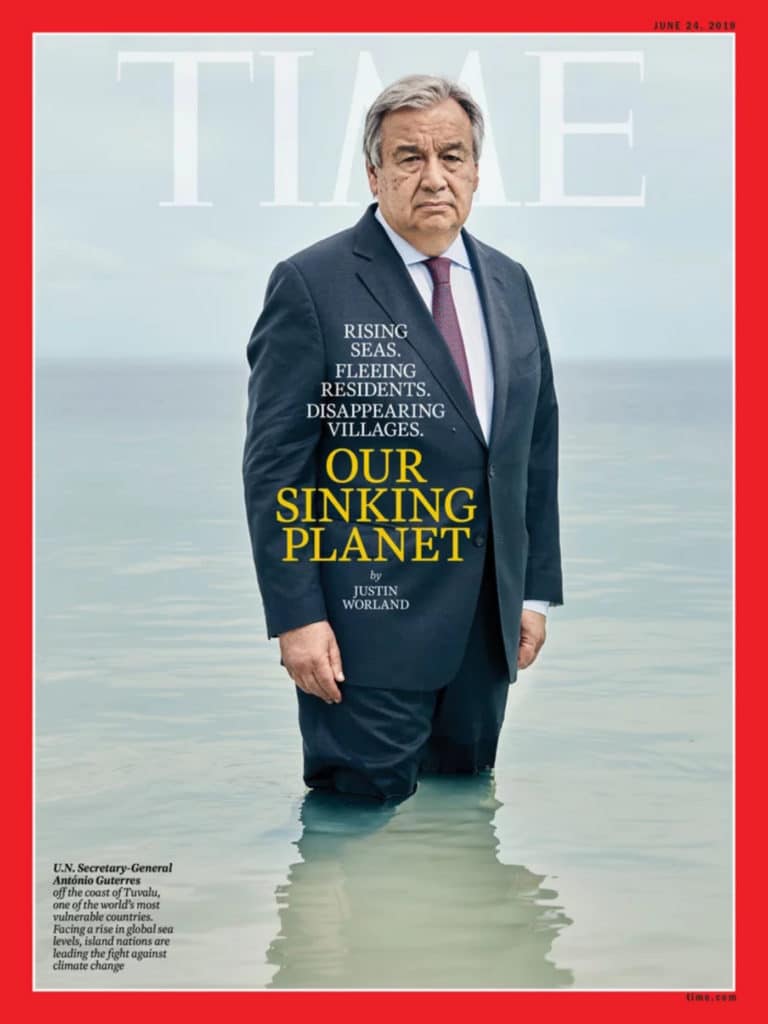 Climate change is on the agenda and the recent cover of TIME magazine, with the Secretary-General of the United Nations dressed in a suit and tie and with water on his knees, will surely be in history as one of the images that most anticipates the future (or the non-future) of our planet.
John Kennedy said in 1961 "ask not what your country can do for you. Ask what you can do for your country". Today, perhaps Kennedy would say, "ask not what your planet can do for you. Ask what you can do for your planet." *
And that's the point. What can we, each of us individually, do or are doing for a more sustainable world? Most people care about this issue and take daily steps to change and evolve. But as good will as we have, the bad news is that's not enough. It's not going to make it anyway. It is very important that we continue to make our personal contribution. In the face of such a vast and profound problem, background measures are needed. Policy measures that are the part of nations and governments, because only then can there be strategic actions to combat this scourge.

The problem is that the United States and its leaders live in the times they live in.
Europe, or the european union, does not have a direction and unity of thought that will lead a process as robust as is necessary for this subject. China is on its way and has some difficulty reversing long-term trends in support of shorter-term trends and realities that are in everyone's sight. Latin America does not understand itself and its economic power is co-ordinated. Japan has long since ceased to be the "gazelle" it was in the 1980s.
ask not what your planet can do for you. Ask what you can do for your planet
What do we have left then? Perhaps the power to do something different has to emanay from the United Nations and hence the relevant role that its secretary-general has had. The point is that the United Nations is also "a product" of states and nations and therefore reflect what they want…

Of course a man, a woman, a child can always make a difference. History has taught us that in the past. But for a desideratum as deep as climate change we need a background wave.

The United Nations needs to be, today, the detonator of the implementation of real sustainable development policies.

The role they played in the last century, of peace and appeasement of nations, must today be converted to a leading role and attention to the great problems of the planet: hunger, desertification, climate change, migrants…

The issue of solutions for the environment and sustainable development is the new "atomic bomb" that we must develop. Just as several countries have invested millions of dollars in the development of heavy weapons and nuclear power, they must now invest in technological development that allows us to have a better world and a more environmentally friendly economy and society.

Industry, in the broad sense, has a crucial role here, because it is one of the major responsible for a wide range of issues that intersect with the issues of sustainable development. Therefore, at ISQ, we have invested a lot in the development of solutions that enable a more responsible industry, a greener economy and that companies can adopt real and innovative solutions in their sustainable development strategies. These days, it's not enough to want to be green. It must be truly consistent.

These days, it's not enough to want to be green. It must be truly consistent.
What we will see in the following pages are solutions and paths that are already possible, that many companies are implementing, which allows us to believe that we are still in time to "save" the future, because it will not serve one day that we have put man on the Moon, or even on Mars, if there is no planet Earth …

Pedro Matias, is chairman of the Board of Directors of ISQ since March 2017. Holder of a degree in Management and a Masters in Economics and Management of Science, Technology and Innovation, he has previously held positions as Vice-Chair of IAPMEI, Vice-Chair of the Lisbon Technological Centre and Chair of several investment funds and companies. He has also been a Director of APCER, member of the management of Startup Lisboa and has held several Portuguese government positions and served as an advisor to the Portuguese Government. He has also been associated with various international structures such as the OECD and as an Advisor to the European Commissioner for Research on the European Research Advisory Board. He is also on the Board of Directors of the IIW – International Welding Institute and the Board of Directors of the TIC Council – Testing Inspection & Certification Council.
+ insight
contribute
---
As a project initiated by ISQ, insight is open to contributions from everyone who wants to participate and who can bring their vision, scientific studies and reasoned opinion to enrich the themes and the debate.
If your activity is linked to research or the analysis and implementation of measures in the topics discussed here, please contact us using the form attached.